PRA Dear CEO Letter on exposure to crypto-assets
The PRA has published a letter addressing CEOs of banks, insurance companies and designated investment firms to remind them of their obligations under PRA rules, and to communicate the PRA's expectations concerning firms' exposure to crypto-assets.
The PRA reminds firms of their responsibilities under the PRA's Fundamental Rules 3, 5 and 7 to: (i) act in a prudent manner; (ii) have effective risk strategies and risk management systems; and (iii) deal with regulators in an open and co-operative way and disclose appropriately anything relating to their firm of which the PRA would reasonably expect notice.
The risk strategies and risk management systems that the PRA considers most appropriate to crypto-assets include:
recognition by firms that crypto-assets represent a new, evolving asset class with risks which should be considered fully by the board and highest levels of executive management.
firms' remuneration policies and practices should ensure that the incentives provided for engaging in this activity do not encourage excessive risk-taking.
firms ensuring that their risk management approach is proportionate to the risks of crypto assets. Given the technical complexity of crypto-assets, firms should ensure that they have access to appropriate, relevant expertise to assess any risks stemming from their exposure to these assets. Firms should conduct extensive due diligence before taking on any crypto-exposure and maintain appropriate safeguards against all the related risks.
The PRA states that prudential classification will depend on the precise features of the assets although crypto-assets should not be considered as currency for prudential purposes. Where relevant, firms should set out their consideration of risks relating to crypto-exposures in their Internal Capital Adequacy Assessment Process or Own Risk and Solvency Assessment.
Further information:
To read more please follow this link:
https://www.bankofengland.co.uk/-/media/boe/files/prudential-regulation/letter/2018/existing-or-planned-exposure-to-crypto-assets.pdf 
Contact us

here
---
Other articles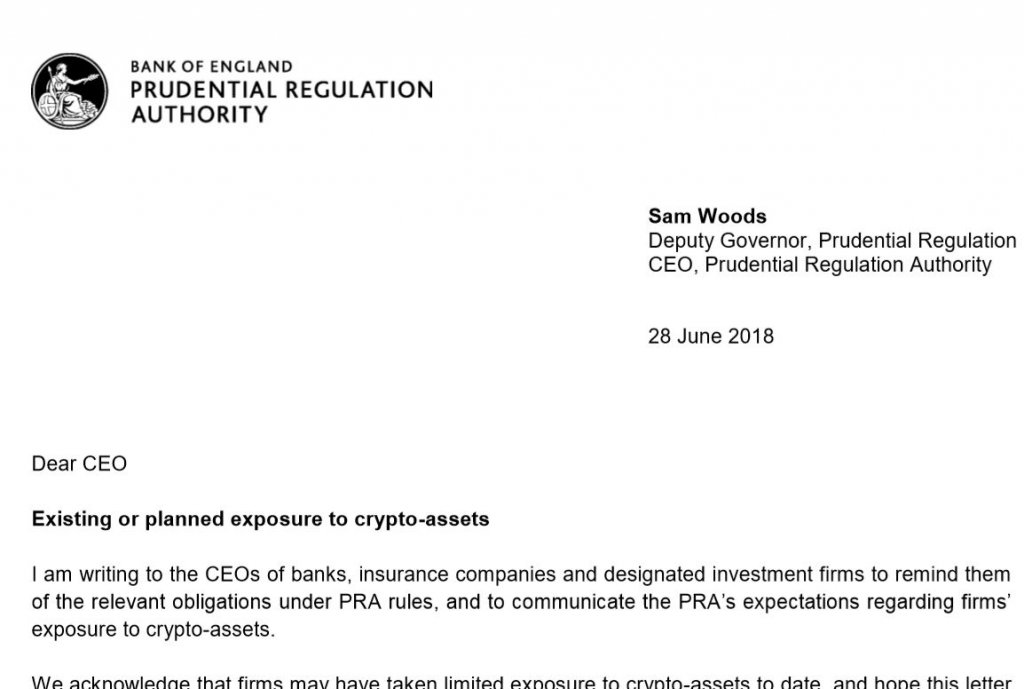 Latest posts by Melissa Lewis
(see all)