Finance Monthly (M&A) Awards 2017
Finance Monthly Awards 2017: Compliance Consulting
We would like to extend our appreciation to Finance Monthly for awarding Met Facilities the Compliance Consulting award for 2017. Met Facilities is honoured to receive such a prestigious award, which recognises us as the leading provider of FCA regulatory hosting services. 
Our philosophy on "focusing on what matters" resonates strongly with our clients who have voted us for this award. We do this by ensuring our clients receive a timely and commercial solution tailored for them. Consequently allowing them to focus on their businesses. We would like to thank every single one of them for voting for us! 
Here at Met Facilities we are excited at the prospect of helping you develop your business in this complex regulatory environment.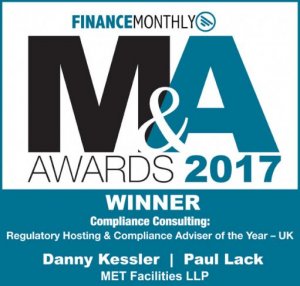 Latest posts by Melissa Lewis
(see all)